I have been wanting to find a good Mediterranean place in South Florida for a while now. Who would possibly be better to suggest a spot than my friend Jenn since she's of Armenian descent?​
She knew just the place. As we walked into the restaurant the décor and lively music surrounded us, providing an atmosphere that really got us in the mood for the tasty Greek food that awaited. We were greeted and seated by Zach, the manager. He introduced us to Betty, who will be taking care of us.
Going through the menu there were plenty of dishes that sounded so good that I may want to come back again. But to start out with, the traditional Amuse Bouche. Hummus. Made simply with chick peas, garlic and evoo (Extra Virgin Olive Oil). It's served complimentary in a ramekin with warm pita.  It wasn't a lot but just enough to get the taste buds rolling.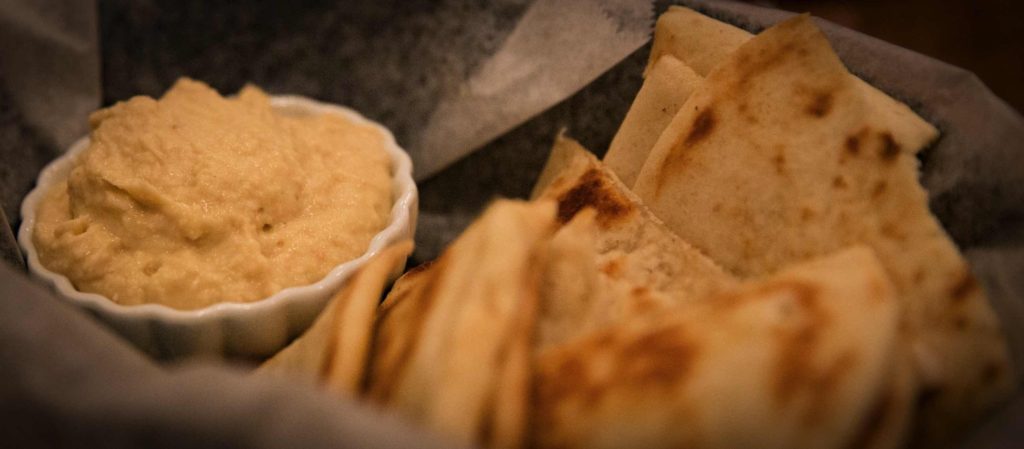 Jenn and I decided to pick an appetizer each. I chose the Cheese Saganaki – a pan-seared vlahotiri (type of cheese) flambe sitting in brandy and set on fire right at our table. It was fun to watch, especially when Betty squeezed the lemon to cause a huge flame. OPA!  Once the fire is out it should be quickly devoured before the cheese starts to harden. I think that a small side of tomatoes, pita and cucumber would compliment this well. In my opinion.
For her choice of an appetizer – Jenn went for the Grilled Octopus- seasoned with evoo, vinegar and oregano. This dish had the most tender octopus I have ever had. It wasn't rubbery at all. Great mix of ingredients and complimented with cucumber, tomato and slices of lemon. Definitely a must. Betty says this is the most popular appetizer.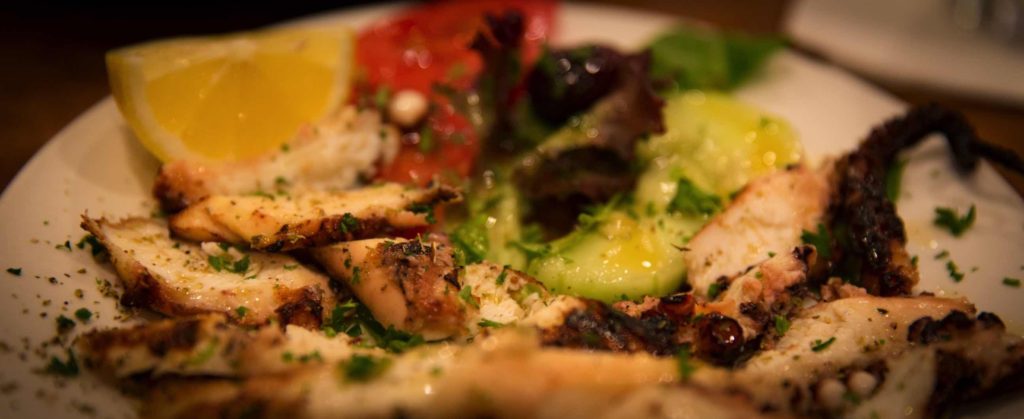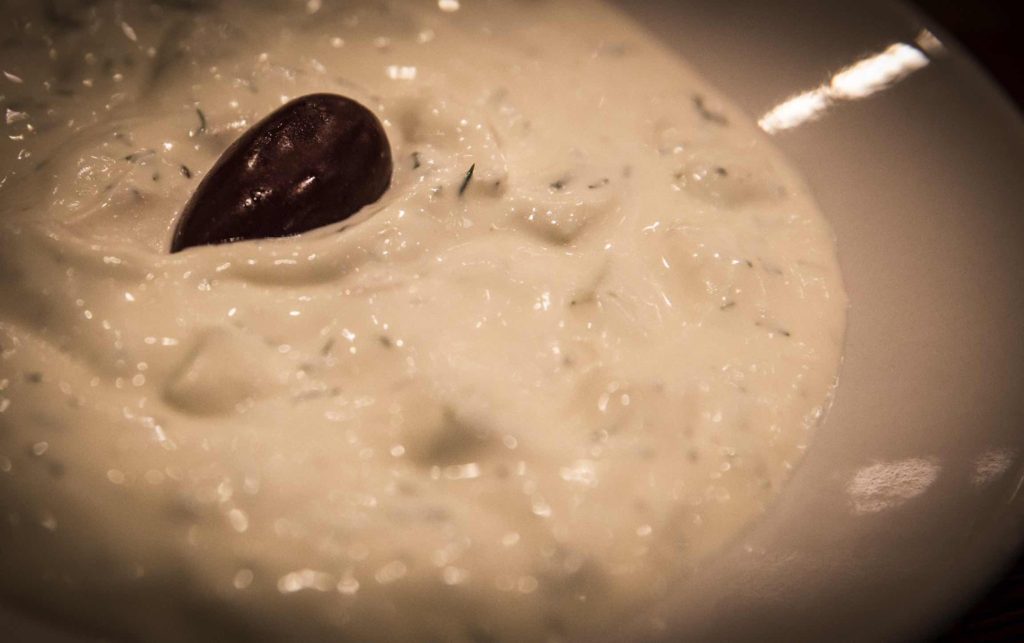 In addition to our appetizers I ordered Tzatziki sauce which had the perfect balance of homemade yogurt with cucumber, garlic,& fresh dill. Some use it for dipping with their pita bread. Others treat it like a salad. I use it with EVERYTHING which kind of scared Jenn. I almost ordered seconds…
For our main course we decided to do the Greek Surf and Turf, that way it's a big portion of us to share and we get to try out 2 dishes that are house favorites.  It consisted of Mezes' award winning Butterfly Shrimp Saganaki and Lamb Chops marinated in wine served with Lemon Potatoes and Grilled Peppers. ​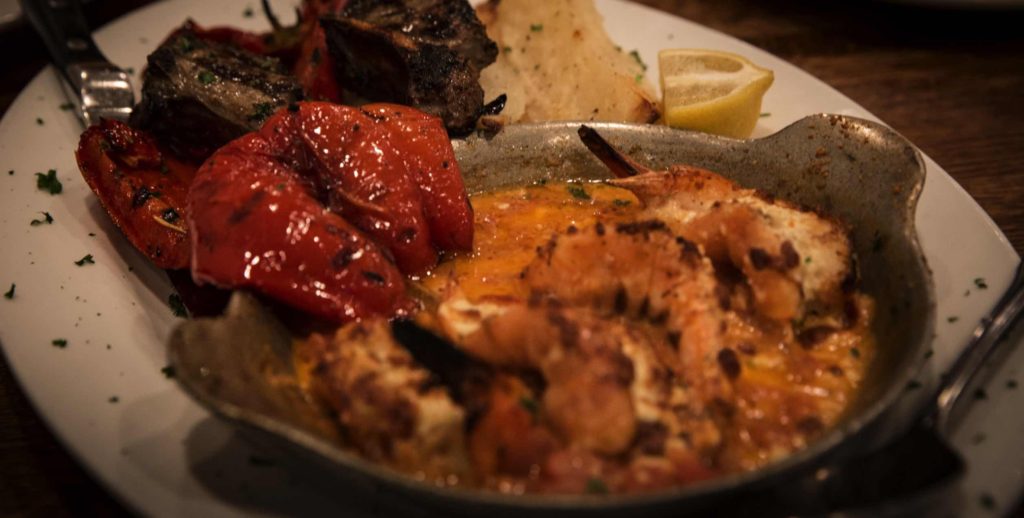 I asked for my lamb chops to be cooked medium rare, Jenn wanted hers medium. When we got our meal both were a medium, no pink. It was still tasty though. I would get the full version of the lamb chops with a side of… TZATZIKI.
The Butterflied Shrimp Saganaki was not like the Saganaki we had in the beginning. This dish is baked with fresh tomatoes & feta cheese, with meaty jumbo shrimp in the shell. The sauce was VERY tasty and different as I've never had feta, shrimp and tomato sauce together. My only caveat was the difficulty in peeling the shrimp from the shell without getting your hands dirty.
For dessert Zach brought us a Galaktobouriko where I turned my head and said -"Did you say Galactic Booty Call?" ​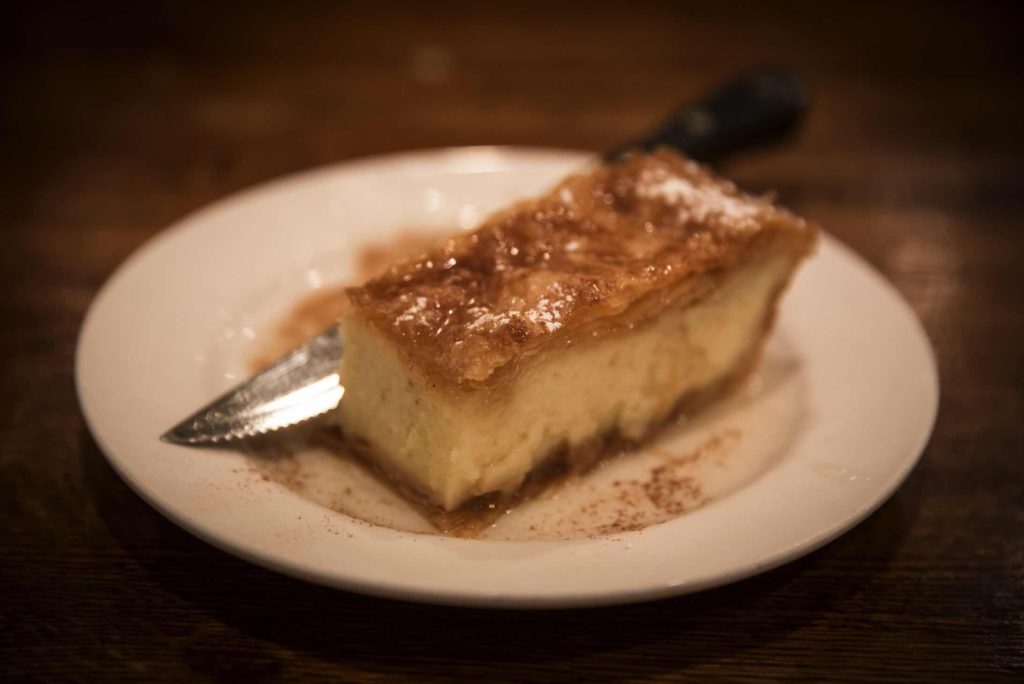 The Galaktobouriko is a sweet semolina custard, with a hint of fresh lemon, parceled and baked in phyllo dough finished with home-made honey syrup. It was sweet but not too sweet and great for two people as a shared dessert. Some nice hot tea would compliment this well.
Jenn has been to this restaurant three times and I knew she would be perfect to introduce me to a great Greek restaurant. I will definitely be coming here again soon! Especially for the Tzatziki… YUM!