Authentic Japanese Cuisine in San Pedro, Belize!
Getting to know Ambergris Caye (San Pedro), Scott and I were told of the Mahogany Bay Farmer's Market that's held the 2nd and 4th Saturday of each month. 
[The market has not been held for a few months but is supposed to be starting again soon as of this writing.]
  We were interested to go and check out the artisan food and see what else the market had to offer.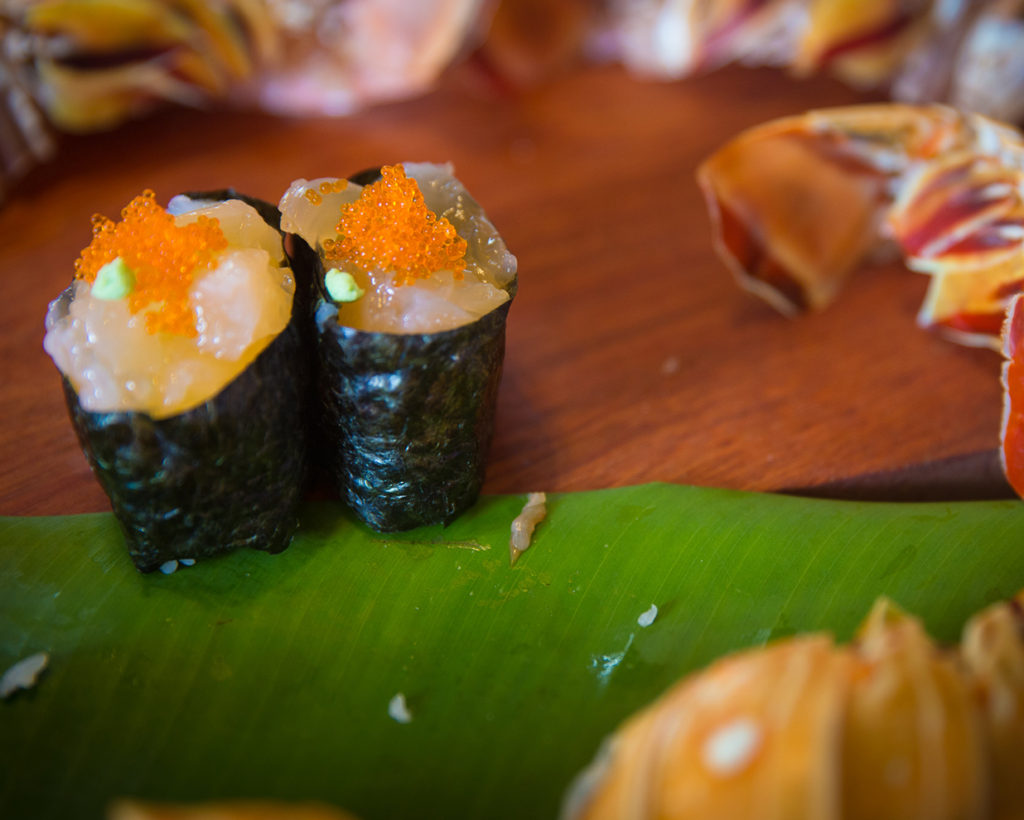 The location is a couple of miles south of town.  To get there from the center will require a cart, taxi or you can hitchhike it. You COULD walk it, but it's a distance and you would have to deal with the heat, humidity and/or rain. This day we had rented a cart since we were exploring the island. 
When you get to Mahogany Bay you will pass a security guard house.  Keep going over the brick road until you see a bunch of white buildings. The event is easy to spot just look for all the parked carts! The resort was still in the process of being built when we were there.
To the left corner as you enter the building there was a table of sushi, sashimi and rolls being made and sold in little plastic to go containers along with glasses of sake.  And, since this was during Lobster Fest, Lobster sushi!  I never had lobster sushi before, and it was something new and interesting I wanted to try out.  If you've had amaebi (sweet shrimp) before, the taste and texture are very similar.  About three orders later, I was chatting away with the chef.  His name is Toshiya Tsujimoto, originally from Japan – now local on the island and opening up an authentic Japanese restaurant serving cuisine from his home.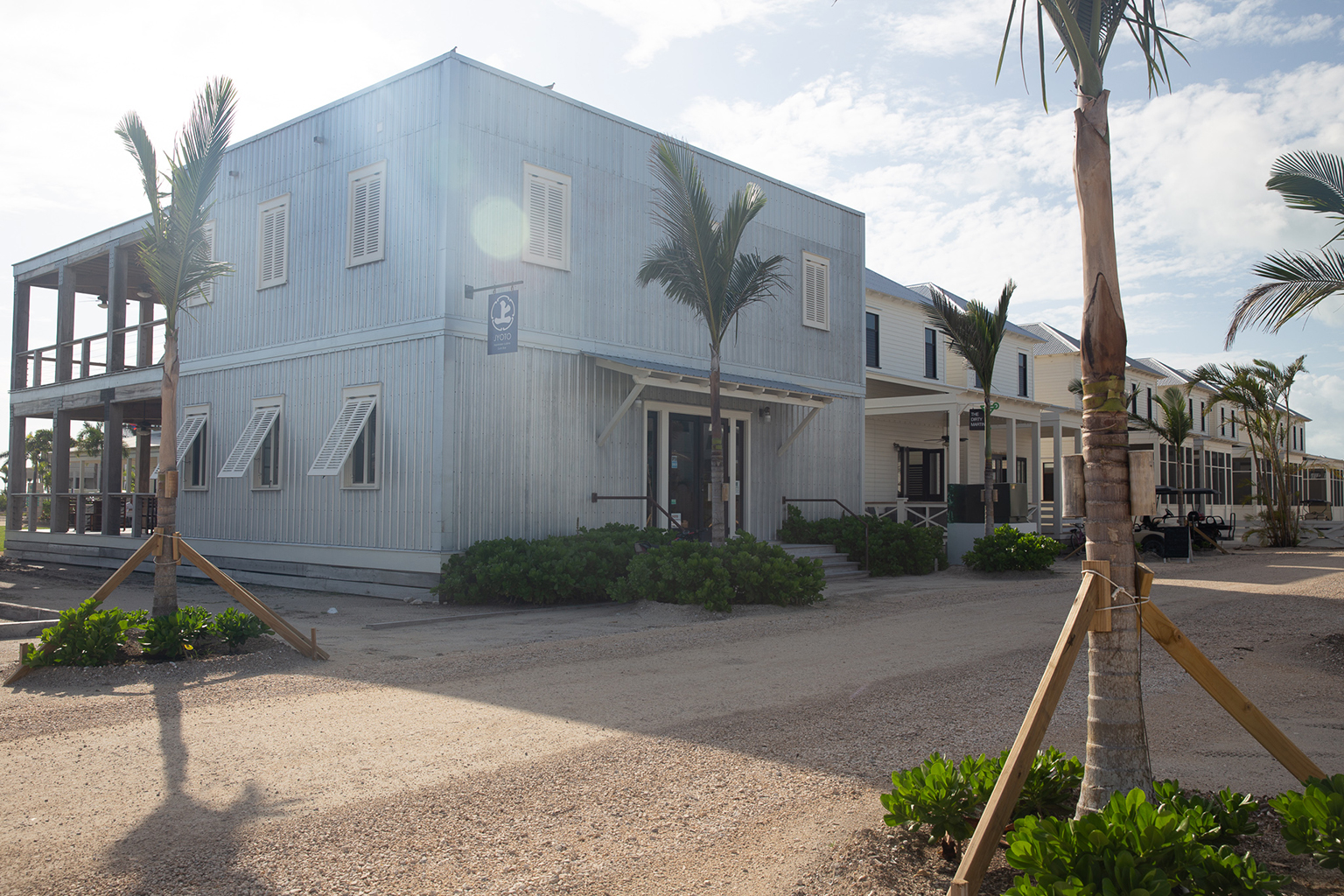 The restaurant was pretty much ready to go except he was just waiting for some more paper work to go through. Having a table at the Mahogany Bay Market was a good way to get a following and future clientele with the anticipation for Toshiya's opening.
Fast forward a few weeks and the restaurant, Jyoto, was now open.  We decided to pay the new restaurant a visit for lunch.  The building looked pretty big, definitely ready to accommodate huge crowds. There was a main floor with the sushi bar, an upper level and balconies and a deck should you want to sit outside.
The main decor through out the restaurant was bottles of (empty?) sake sitting on shelves on the walls.  Either Toshiya was not done decorating or he was going for the modern minimalist feel.  We sat at the bar and were ready to feast. 
As we were munching away at the VERY fresh sushi and sashimi, Toshiya told us he gets most of his fish from the fishermen on the island like snapper, jack, mackerel, tuna, grouper and whatever was in season like lobster or conch.  The other types of fish he will get if available are imported from Japan. 
If you don't like raw fish, there are other things on the menu that you may like. He prepares a variety of chicken and pork dishes and sushi fried rice to name a few.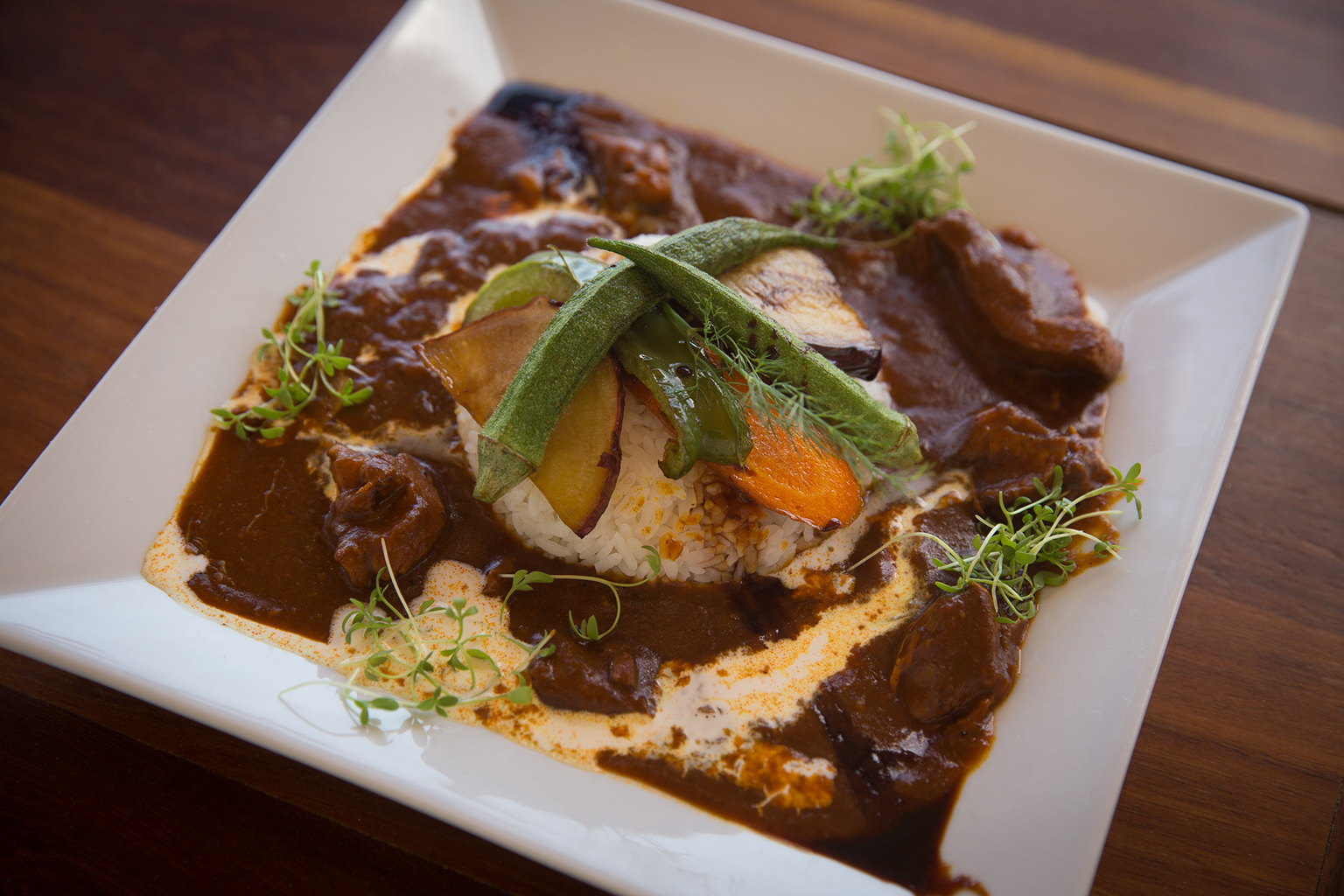 Scott got the Japanese Pork Curry (shown left) – a nicely portioned pork dish served with sushi rice, bell peppers, okra, carrots, eggplant, and micro greens.  It had a slight kick of spice to it.  According to Scott – it was similar to what he had in Japan but Toshiya added his own twist to it.  Japanese curry has more of an Indian flavor than a Thai flavor. 
You can also request other Japanese delicacies which are not on the menu and aren't normally easy to find elsewhere in the world.  But, if he's not too busy and has the ingredients, Toshiya can make it.  One of my favorites he would usually make for me – Chawan-mushi.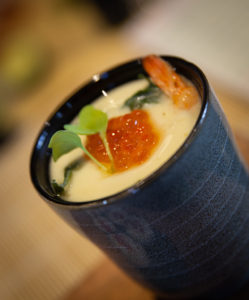 Chawan-mushi (to the right) is a steamed egg custard with different fillings inside it like seafood, vegetables, and meat – usually served chef's choice.  Mine came with p
ork, shrimp, fish, edamame, and I requested for an extra charge – Ikura.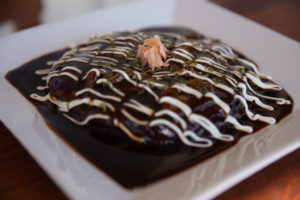 Over the next few weeks, Toshiya extended his menu to different dishes that are hard to find anywhere (especially in Belize) like Okinomiyaki (Japanese Pancake) filled with different types of seafood, pork, ginger and tempura flakes in a very savory sauce.
Another popular food staple that was
added to the menu is in-house made ramen.  Two different versions were offered – Spicy Miso and Garlic Soy.  We had one of each so we could try them.  Both were served with pork belly and a marinated soft boiled egg.  The two bowls had a different assortment of vegetables catered to flavor the chicken broth its cooked in. [Update: There are now 2 more types of ramen. The Haban
ero Lime and a Cold Ramen called Hiyashi-Chuuka]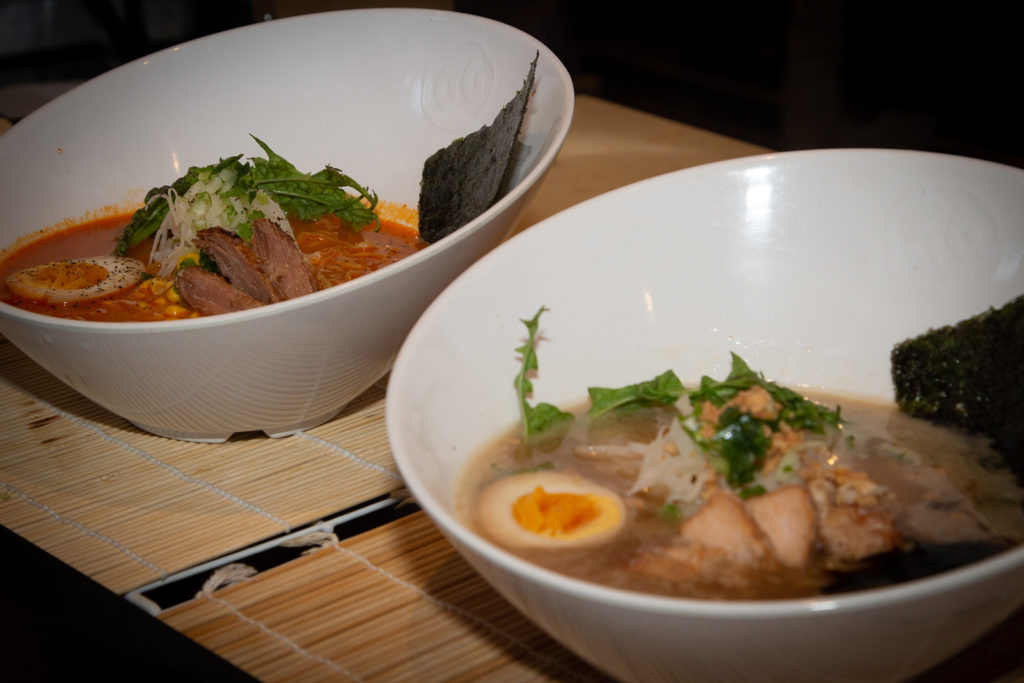 The other things Jyoto has to offer are the bar with Japanese inspired cocktails and the desserts, which were quite interesting.  Try Toshiya's rice cocktail, it's his own concoction and he's very proud of it.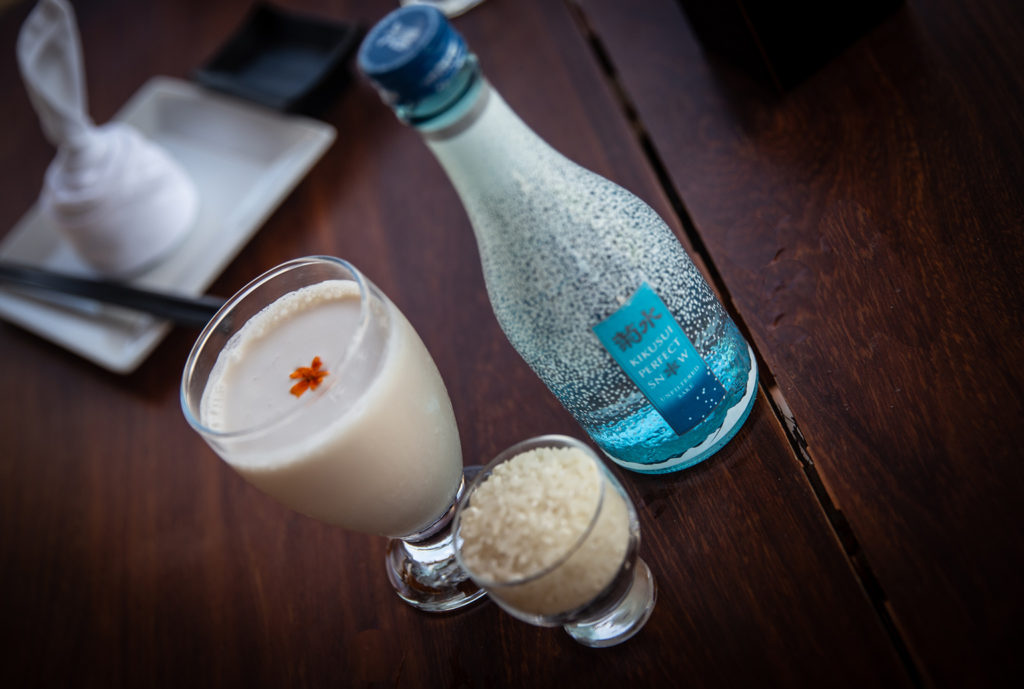 Over the next few months of staying in Belize, this was our go-to place to get our sushi fix. There are a lot of places that make sushi rolls in San Pedro (you've just got to find them) but this place tops all the ones we've been to – by a wide margin.  The prices aren't bad and the staff is very courteous and attentive.  We've done pretty well with our bill there – but once you add alcohol to it and get addicted to the yummy cocktails, expect yourbill to jump.  Although that goes with every restaurant with a bar and yummy desserts.
Below are more pictures of various dishes we have tried and devoured.  Nothing got left behind… except the tails and plate ware.