French Canadian Fare in San Diego!
Written By: Natasha S.
​Photography By: 
Lisa T.
Original Article Date: 10/25/2015
​
Poutine
Refined sounds of indie tunes flow melodically from the speakers. U are in another world. Transformed by the fresh sounds and smells of modernity. Smell that? It's bacon! You are posh, a hipster , and you are in for a treat. This is how you will feel when you walk into  Mess Royale. A combination of the French Canadian classic poutine and virtually anything your heart desires. Anything that has made a buzz in the food world over the last 5 years is here. From pulled pork to salted caramel to Kale it is here!  It's all available as a topping on your Poutine. Poutine is a dish rumored to be the creation of one Montreal patron's desires.

In a word, this place was cool. I'm talking purple tiled bathrooms with textured grey wall paper stamped with fluer de lis. ​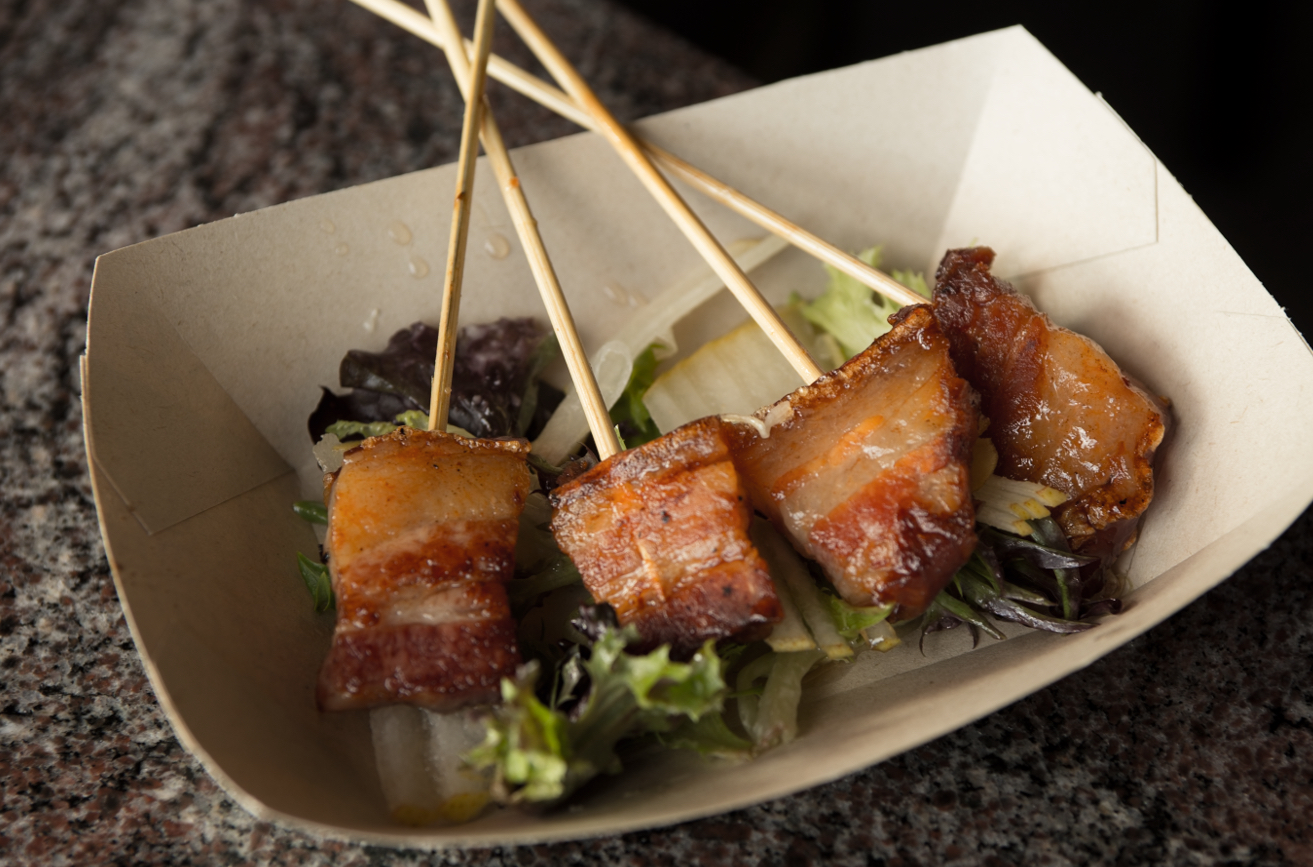 The first course was a plate of smokey goodness; the bacon pops. My tasting notes included "melt in your mouth" and "Grandma's kitchen". Indeed the smell took me back to Saturday mornings in my Southern Granny's kitchen where the aromas of home cooked bacon, sausage and grits woke me each weekend. Any place that stirs up that kind of warm hearted revelry starts off with an A+. The bacon pops were served with a sliced pear salad featuring a homemade dressing made from slow cooked bacon in a Canadian maple syrup Ballast Point beer reduction. Yes, it was as good as it sounds! ​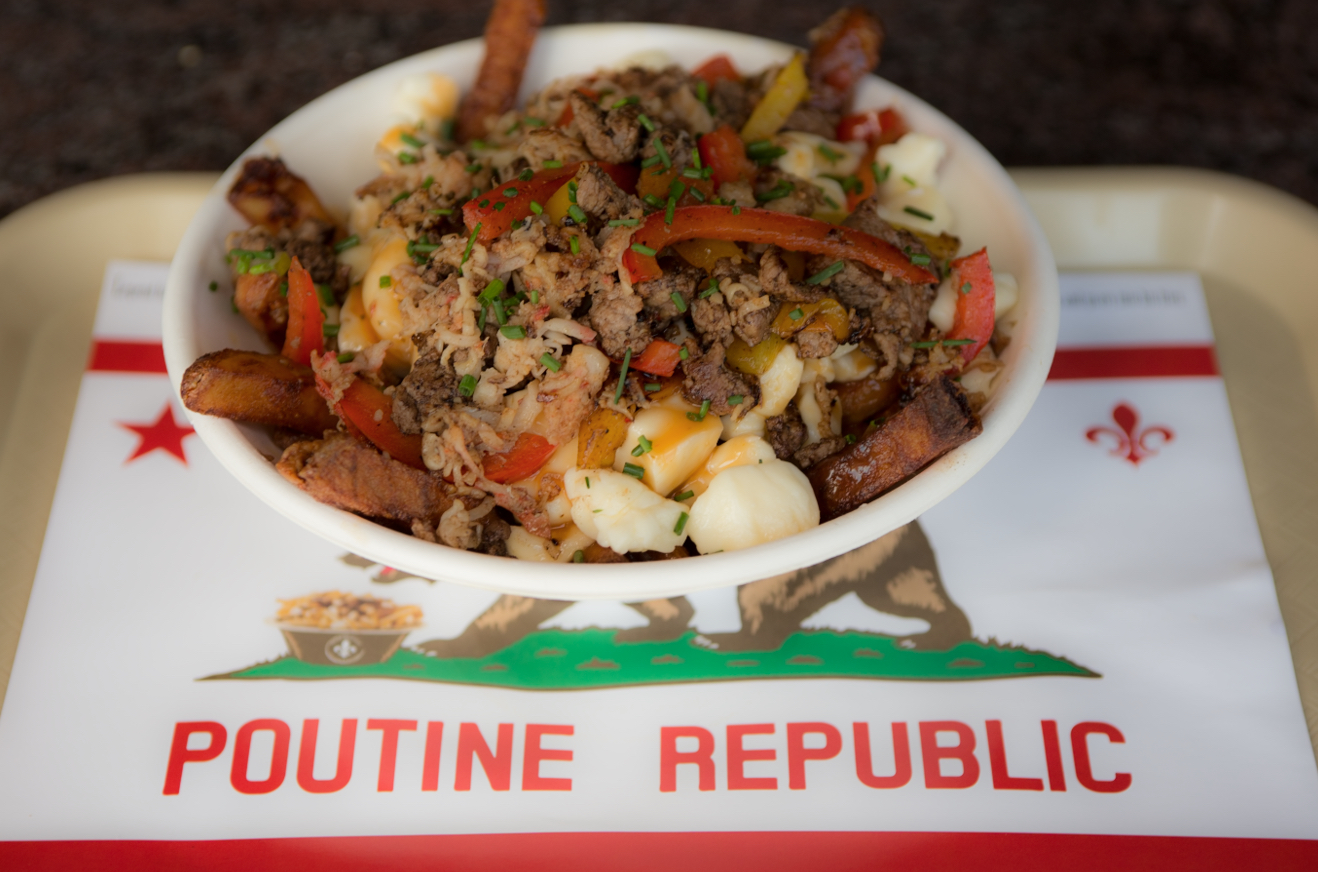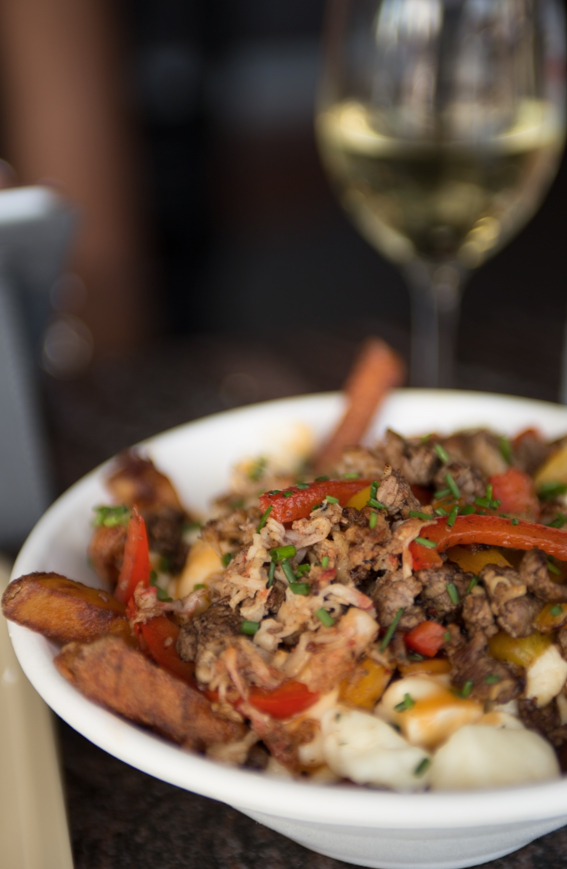 The second course was surf and turf Montreal style. Lobster and carne asada topped a heaping pile of potatoes. Fresh cheese curds flown in from Wisconsin were sprinkled across the top and the whole thing was topped of with perfectly spiced, thick, brown gravy. A sweet and spicy aroma filled the room as the dish was set on the table. It was as if Thanksgiving came in July. Notes of celery, carrots, onions, and stock blended together masterfully. The meal hit mark. It rivaled some the best poutine pits in Montreal. Definitely worth a try!
UPDATES:
5/5/2016 – SAW ON YELP IT'S NOW 
CLOSED.
3/16/2018 – NOT CLOSED. JUST MOVED TO
3500 SPORTS ARENA BLVD
SAN DIEGO, CALIFORNIA 92110
ONLY OPEN FOR  GULLS GAMES, CONCERTS AND CERTAIN EVENTS THAT TAKE PLACE IN VVCC.
​
MESSAGE FROM OWNER
"YOU WOULD NEED EVENT TICKETS TO
GET IN AND HAVE OUR FOOD"