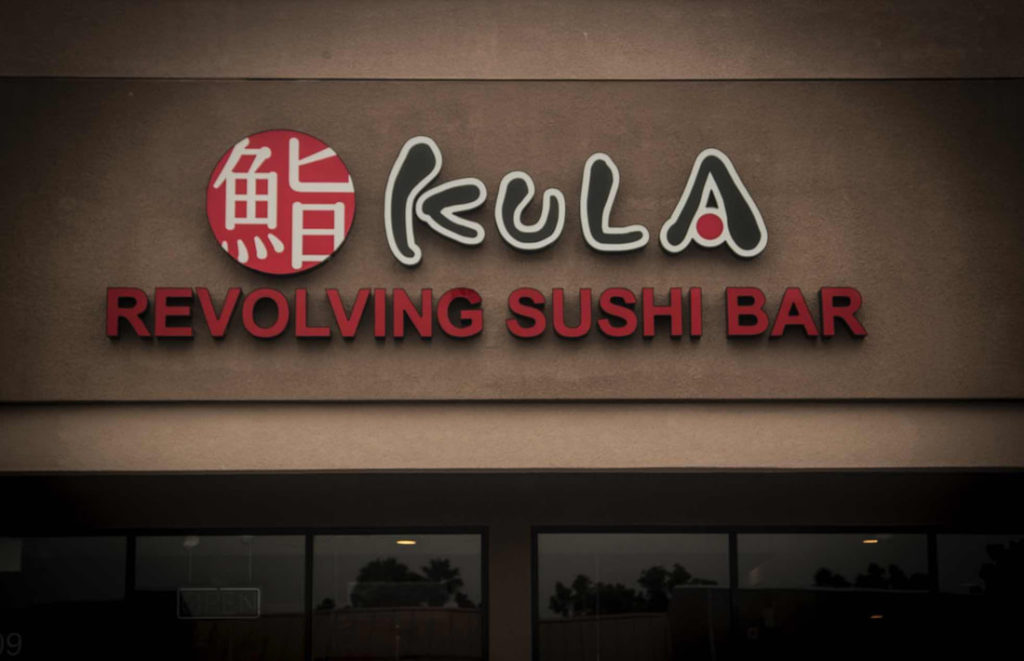 Written by:  Myrium F.
Photography By:
 Lisa T.
 and Scott N.
Last week my friend and I finally had some free time to visit Kula's Sushi bar. We arrived on a Wednesday for lunch.  I honestly didn't know what to expect. All I knew was that we are sushi lovers and every time we drive by, this place was packed with other sushi lovers standing in line outside waiting to be seated. We became curious to know what the hype was all about since this place was always very active.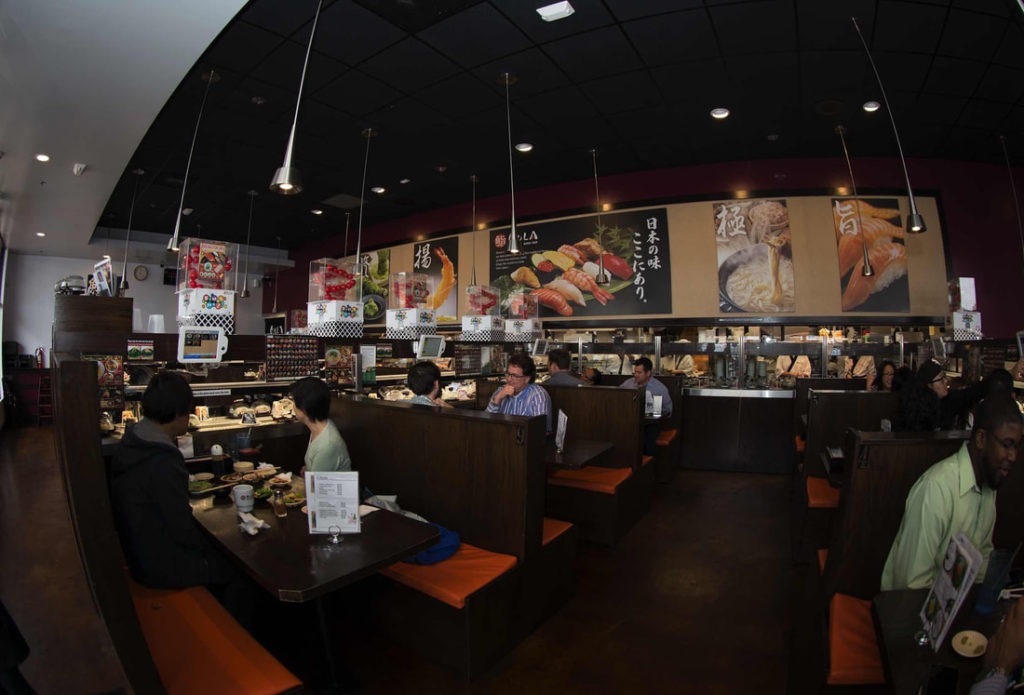 Since the restaurant is located in a plaza, the parking lot is always packed.  Sometimes you'll be lucky and find parking.  Other times good luck. n this particular Wednesday I witnessed someone going to the Sushi bar holding a parking space for another person in her party, which made my friend and I even more anxious to see what this place was about and if it was really that serious.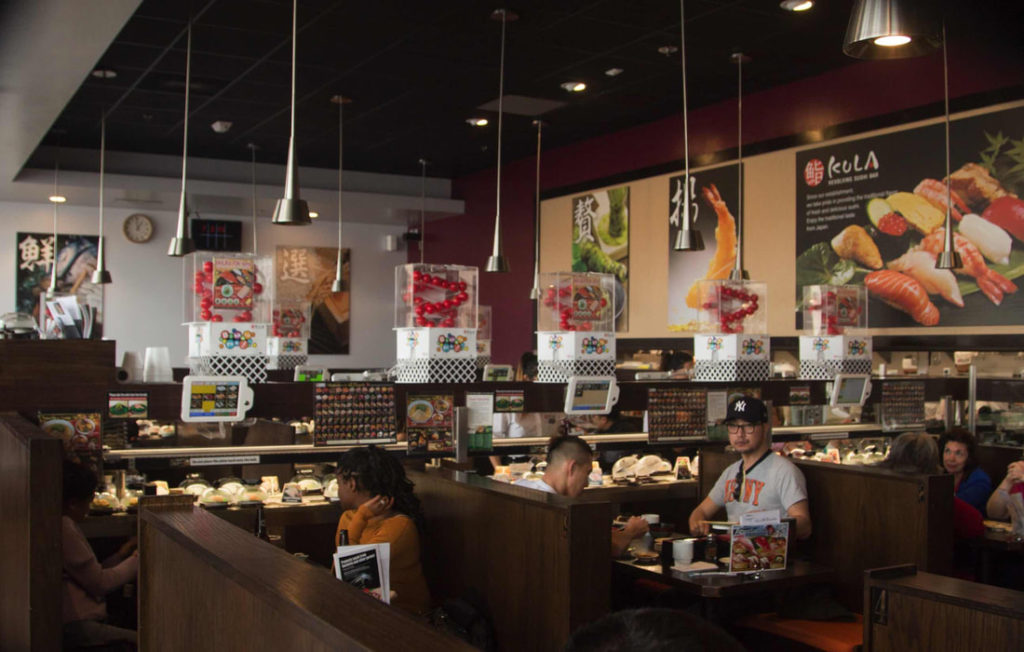 The restaurant looked very clean as we walked towards it to join the 8-9 customers that were already in line. I thought it was extremely important to witness the cleanliness of this place considering that we were going in there to eat raw fish. I checked in on the machine located outside the door and put us on the waiting list for a party of 2. Luckily, it was a rainy day and it did not take long for us to be seated compared to the usually longer wait. ​
Immediately upon walking in, we noticed the pleasantness of the staff as we were walked to our table. One cool thing about this restaurant is that has an open kitchen design making us able to observe the chefs preparing each dish.  It was cool to watch.
We were so fascinated by the conveyer belt transiting throughout the restaurant carrying delicious looking selections; just like in Japan. Anytime you see something that peaks your interest, you just pick it off the belt as it's going by.  If one these many options isn't exactly what you had in mind, you can also order off.  Your request will arrive shortly, delivered directly to you on a separate ordering belt. ​​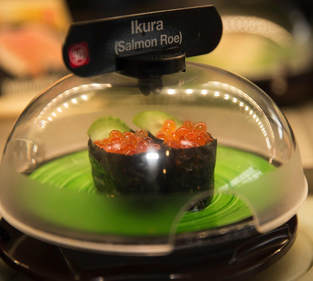 This is definitely one of the most sanitary Sushi restaurants I've ever been in. Plates are inside what they call "Mr. Fresh". Which protects the sushi from bacteria and other germs; which I thought was really neat.
Each Dish/appetizer is only $ 2.25 per plate!  We fell in love with the raw blue shrimp.  Just thinking about it right now got my mouth watery. But it was so delicious! That and the garlic tuna steak which melts right in your mouth and still has a nice little crunch to it.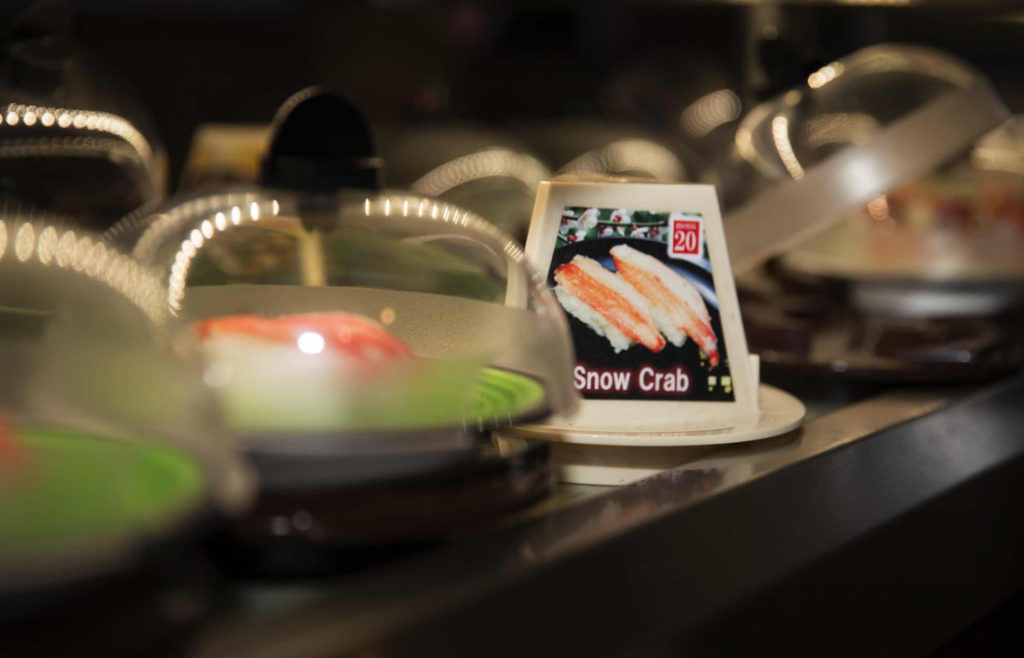 And the snow crabs: OMG. 
We all know how expensive snow crab can be. They had the real thing, (no imitation although available), for $2.25.
Other must tries include: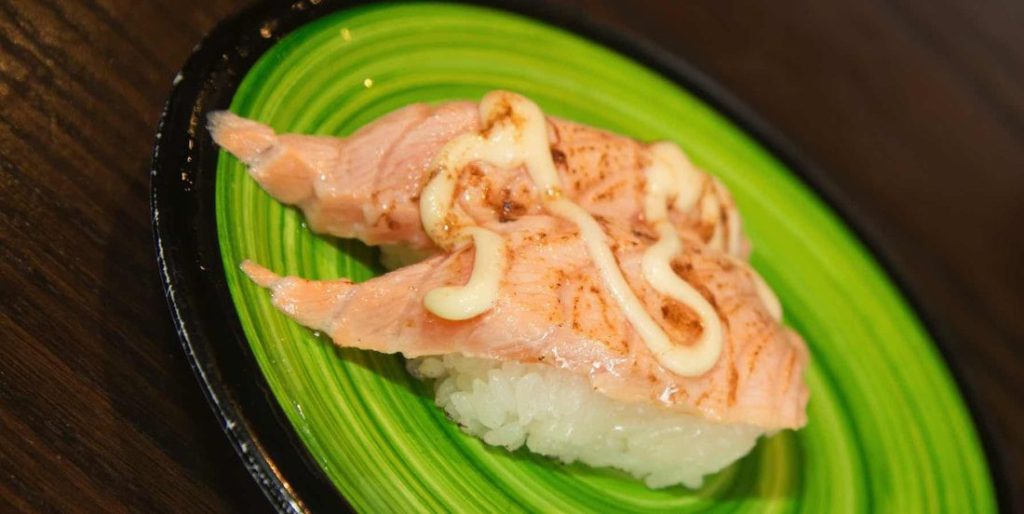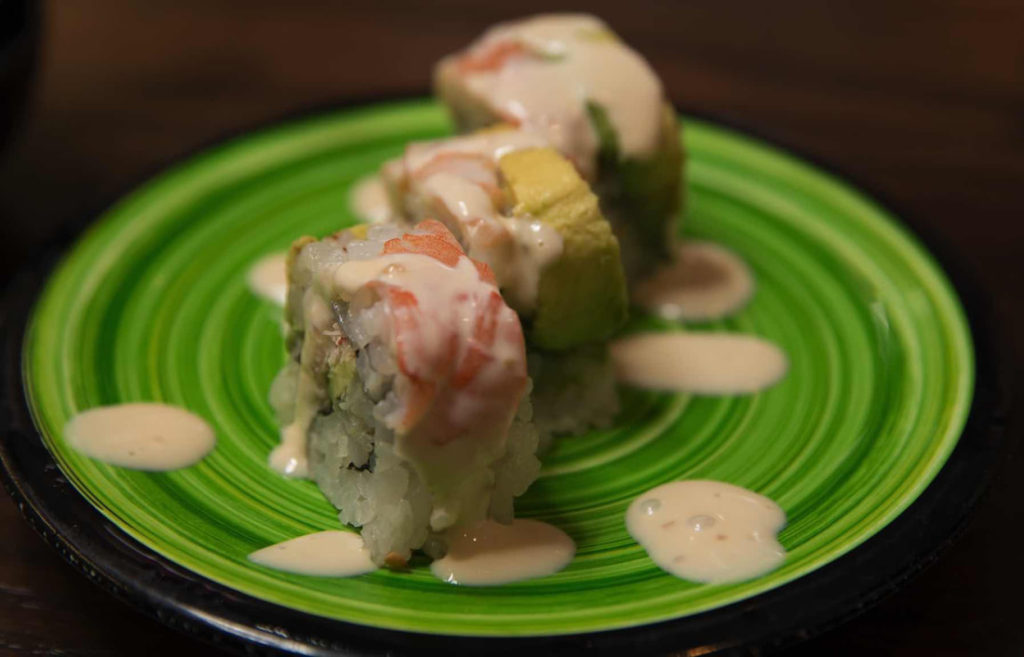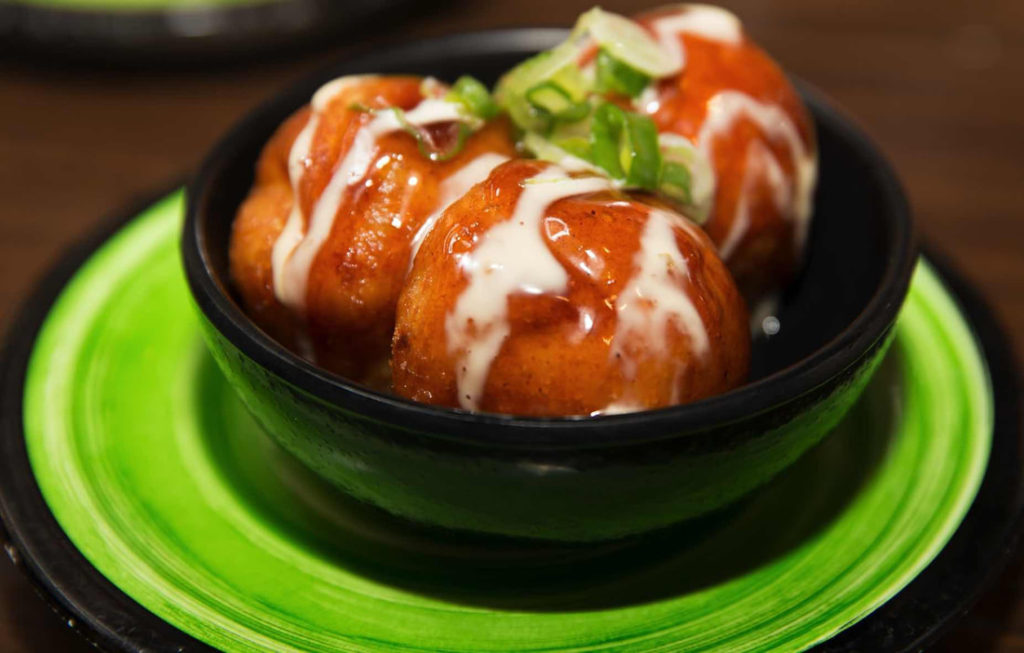 The Tako-Yaki was really good.  It's advertised with the yuzi cream sauce, but we asked for ours on the side. It was great with the sauce. Editors note: It also came with Eel sauce to give it some sweetness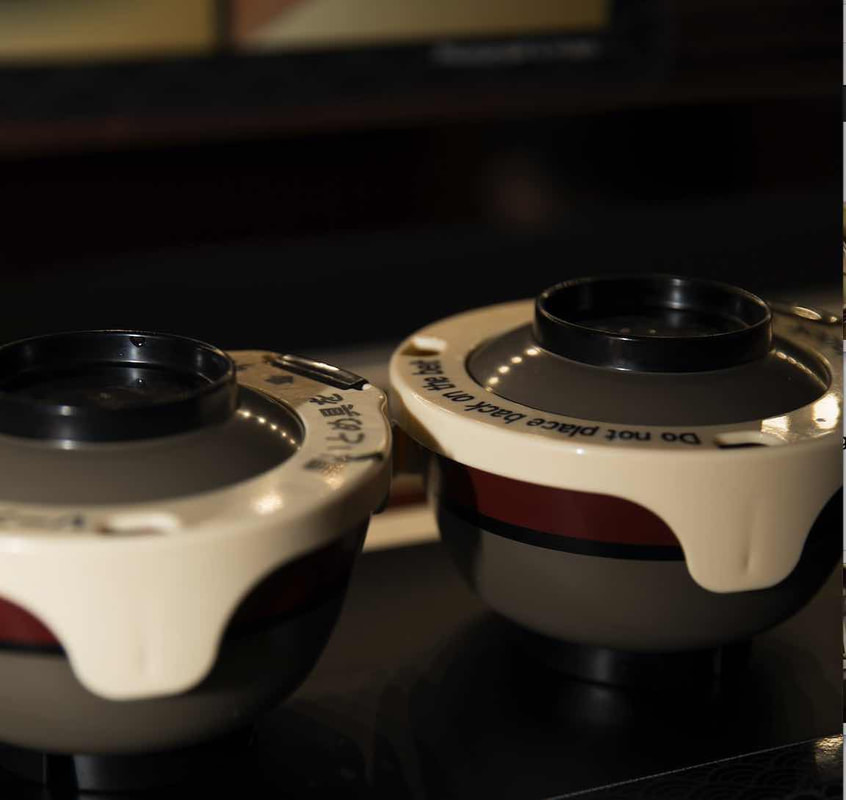 The miso soup was another great choice. It was very flavorful and made with the best Dashi Stock.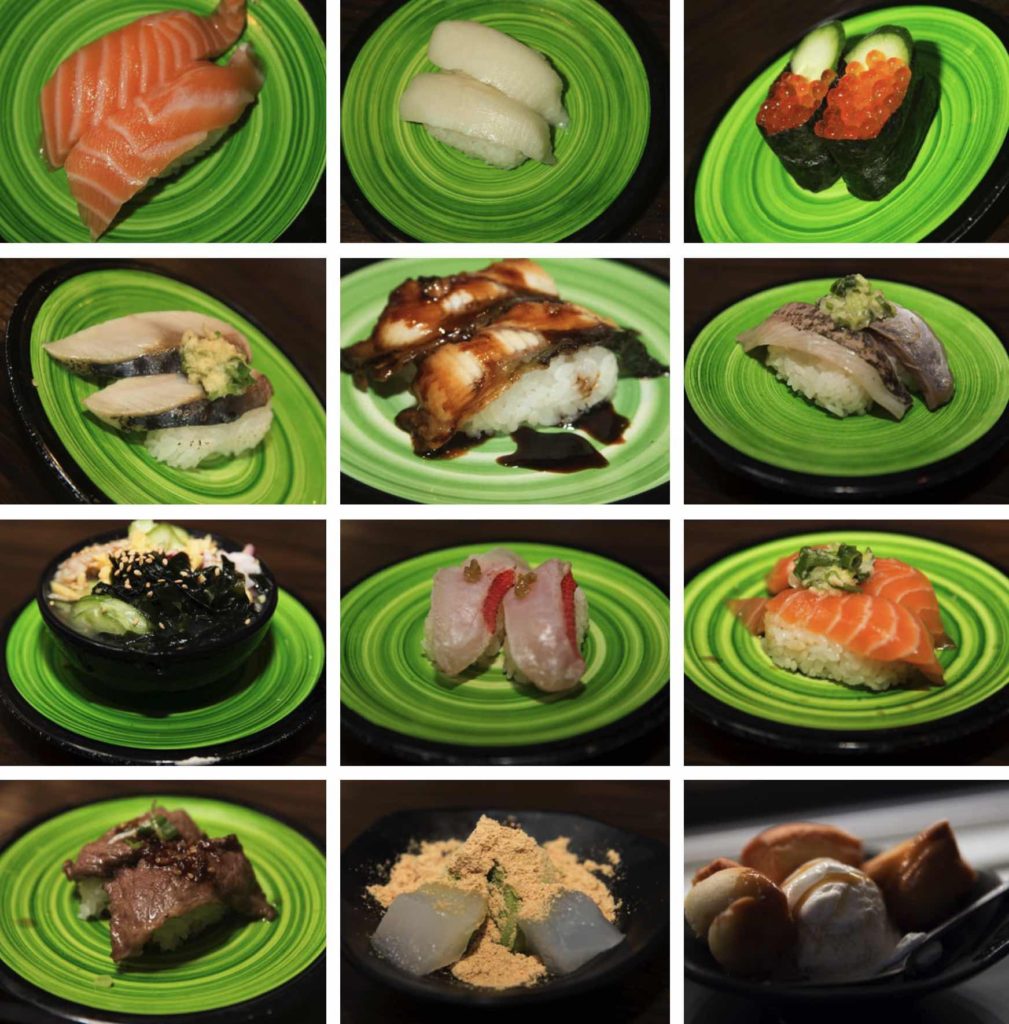 Pros:
– Great customer service
– Most sanitary Sushi bar
– FRESH Wasabi, not generic, which most restaurants charge for
– They offer chopsticks and training sticks
– Restrooms are well maintained and serviced every 2 hours
– After every 5 plates you have the possibility of winning a prize
Cons-
– Be prepared to wait in line, or call in advance to inquire about the wait before arrival
– Good luck finding parking
Overall, a great place to suggest. Our waitress Karina was fabulous! There are many dishes that we didn't get to try considering the many $2.25 plates that filled us up. We are looking forward to going back as this place has great food and a delightful ambiance. We definitely recommend. Enjoy and make sure you go on an empty stomach.
---
4609 Convoy St.
San Diego, CA 92111