Fellow Blogger and Foodie Lauren J. Mapp recently did an article on her blog OffTheMappBlog.com (Love the name) that I just had to repost. Her articles and photography definitely makes me crave to try what she's having. – Lisa T.

Hello. My name is Lauren and I am a lobsterholic. If I ever developed an allergy to lobster, I would probably die of anaphylactic shock before giving it up cold turkey.
During my first few years of living in San Diego, I missed lobster rolls and New England's seafood almost as much as I missed my family and Dunkin' Donuts. And no, I am not going to comment on which of those items I missed the most.
For a long time, I would fly into Providence's Green Airport just so I could snack on the Providence Oyster Bar lobster roll as soon as I landed, and so that I would have the perfect pre-flight snack before heading home.
After years of waiting, there are finally several options of legitimate, well-prepared lobster rolls in the city to choose from. While they are usually pricier than what you might find on the East Coast, these West Coast options are sure to ease the cravings of us die harder Massholes living on the Best Coast.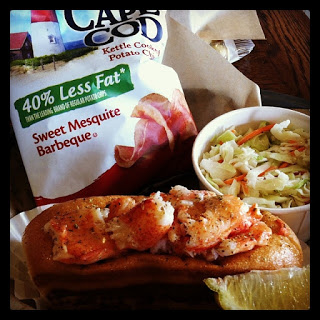 Lobster West
Located in Encinitas and Coronado Island, Lobster West was one of the first places in San Diego where I was able to get a true lobster roll.
My expectations were incredibly low, as I had previously been burned by poor recommendations from some of my friends. One such friend had sent me to a restaurant where they served the lobster "roll" on a hamburger bun and it was drowning in mayo.
Lobster rolls belong on split hot dog buns, and while I sometimes enjoy a good Maine-style roll, the tender meat of the lobster shouldn't be overpowered by globs of mayonnaise, in my opinion. (My preferred style is Connecticut, meaning it is lightly tossed in butter)
I was pleasantly surprised when I tried this roll and it continues to be one of my favorites in San Diego County.
In addition to the lobster roll, try the soup flight with lobster bisque, crab soup and the classic New England clam chowder (not to be confused with the sacrilegious, red soup from Manhattan).
Located at:
1033 B Ave
Ste 102
Coronado, CA 92118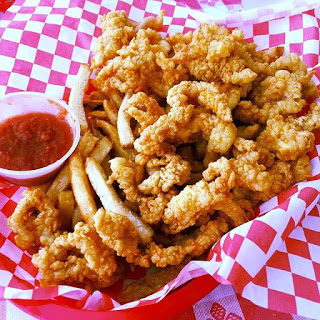 Pete's Seafood
This is the lobster roll location that is closest to my apartment, so it sort of has the home court advantage compared to the other restaurants listed in this post.
The other thing 
Pete's Seafood
 in North Park has going for it are the delicious and perfectly fried clam strip basket, served with fries. As a kid growing up in New England, summers were spent camping down at 
Hammonasset Beach State Park
 in Connecticut.
Our whole extended family would rent campsites each summer for a week of swimming in the Long Island Sound, turning marshmallows into dangerous torches for s'mores and bonding with all of our cousins.
Though most of our camping meals were spent roasting hot dogs on an outdoor grill, we would sometimes splurge for a night and head to 
Bill's Seafood
 in Westbrook, where I would promptly feast on all the clam strips I could get my hands on.
Though nothing will quite match my fledgling, foodie adventures during those childhood camping trips, these clam strips come pretty close.
Located at:
North Park
3382 30th St
San Diego, CA 92104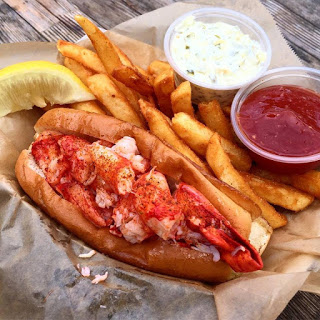 Wicked Maine Lobster
First, there was the single farmers market stand. Then it expanded to multiple markets, several days of the week. Now, there are several options of where to find Wicked Maine Lobster's rolls at farmers markets throughout the city, but my preferred location is the semi-brick-and-mortar location in the Liberty Public Market.
Full disclosure: I recently starting working at the Mess Hall cocktail bar in LPM, but my high opinion of this location is not influenced by anything or anyone except for the fact that this location has a fryer that produces heavenly bodies of crispy French fries, which are not available at the temporary market locations.
From the fact that they use the New Englandese synonym for "very" in the restaurant's title, to the way tasting this roll always transports me back to my childhood home, Wicked Maine Lobster holds a very special place in my heart.  Also try their chowder fries and the full belly clam basket.
Located at:
Liberty Station
2820 Historic Decatur Rd
San Diego, CA 92106
Where are your favorite lobster rolls from? Comment below!