Written by: Lisa T.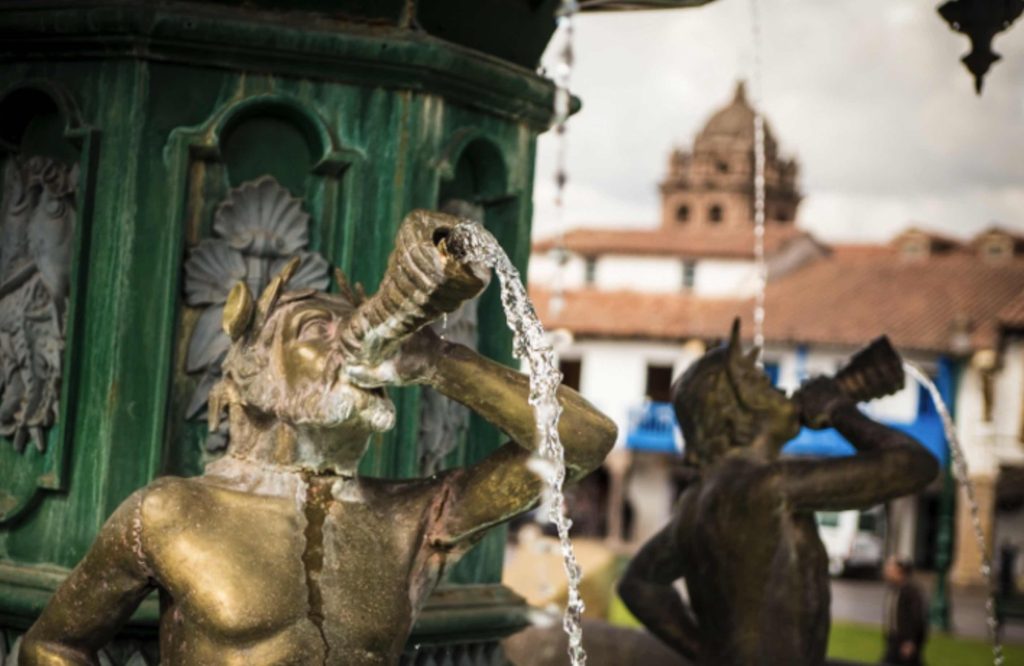 We were in vibrant and colorful Cusco, Peru for a Photography Expedition and Work Shop and since we were at a higher altitude we flew in a few days earlier to get adjusted (I would hate to have altitude sickness on a course we paid a lot amount of money for and miss out. >.<) After roaming around and being tourists we decided to spend one whole day just jumping around from restaurants and bars sampling the different types of food / drinks Peru has to offer. Our goal was to hit 5 different places… hiccup.
First off.  The hotel we stayed at was the Hotel Ruinas, close to the Plaza de Armas in Cusco. Price wasn't bad for a little boutique hotel. Average was about $100 a night with an optional breakfast buffet (that never changed) every morning starting around 4 A.M. Our room was cute. No window to the outside, just to the interior of the lobby. But it was quiet.  And the bed was HUGE. Ok – now for the eating and Drinking…
  
---
STOP 1:
NORTONS PUB
Norton's is a little British Pub that was serving the whole menu at 7:30 A.M. Given the time of day we were there, only a few things on the menu were interesting to me.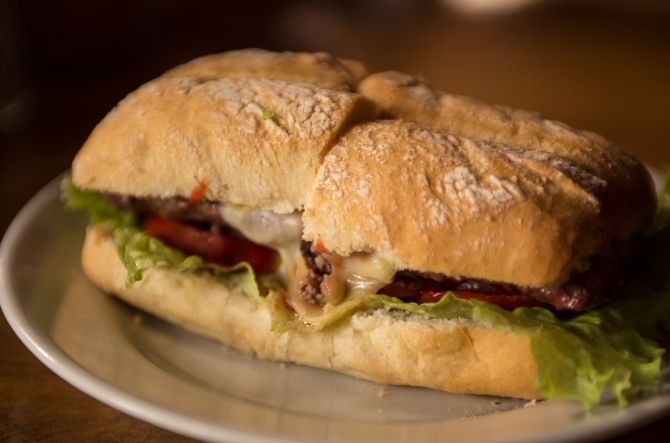 Peruvian Cheese Burger… pretty tasty and longer like a hoagie.  The meat tasted different than I'm used to because of the way the Peruvians feed their cattle and grow their crops.  This was definitely a different take on the burger.  I would say very tasty!  We went back there one more time for another one.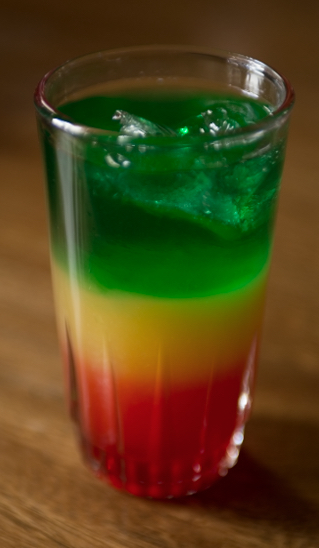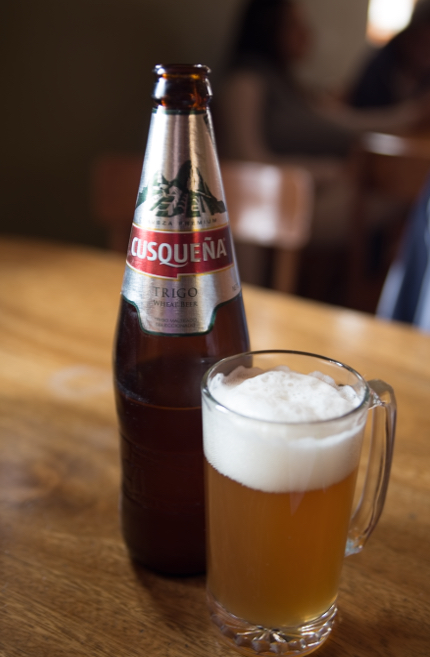 To drink we got the Peruvian Beer known as Cusquena Trigo Wheat Beer.  And the cocktail Machu Picchu (to be quite honest would be better as a shot than a drink).
Total S.53 US $16.82
---
STOP 2:
CALLE DEL MEDIO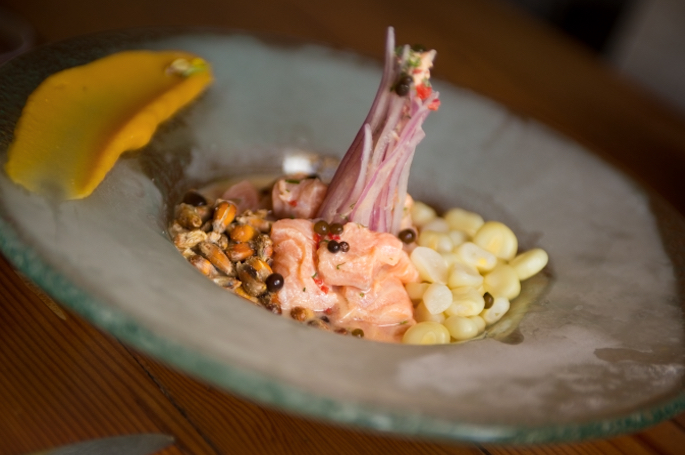 One of the many traditional Peruvian restaurants of Cusco. Nice view of the square and very clean. We got the Salmon Trout Ceviche Traditional which was WONDERFUL! I just wasn't used to getting the big kernels of corn in ceviche. Our server Tony was mighty helpful and very knowledgable about the area.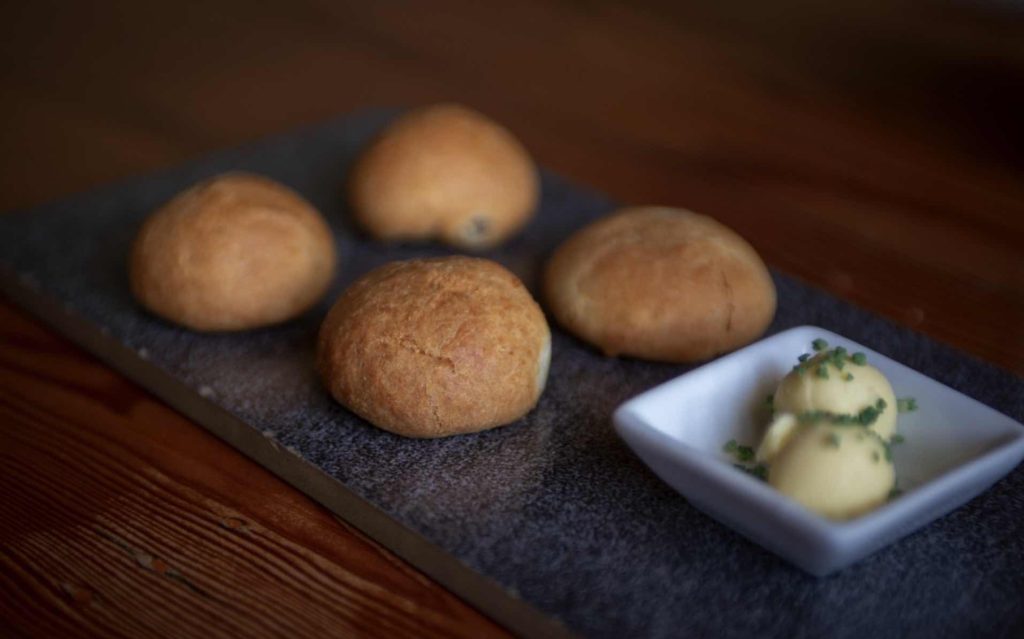 ​To drink we shared the Inkapalca Sauvignon Blanc 375 ml. A good size to split and quite refreshing.
Total S.71 US $22.53
---
STOP 3:
INKA GRILL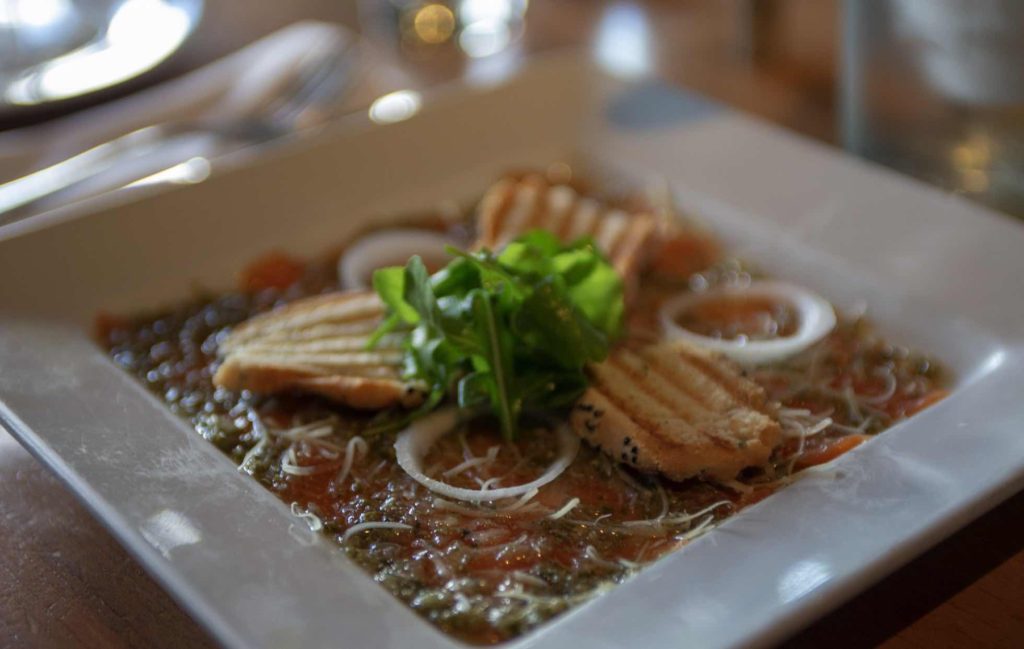 More Trout! I guess there is a huge abundance of trout here in Cusco. It seemed to be on every menu.  We chose the Smoke Trout Carpaccio. It wasn't as good as the ceviche from Calle Del Medio, but still yummy.
The wine pairing we had with this –
Las Moras Sauvignon Blanc – 375 ml. (Better for your wallet instead of buying 2 glasses of wine)
S. 75
​US $ 23.80
---
STOP 4:
INCANTO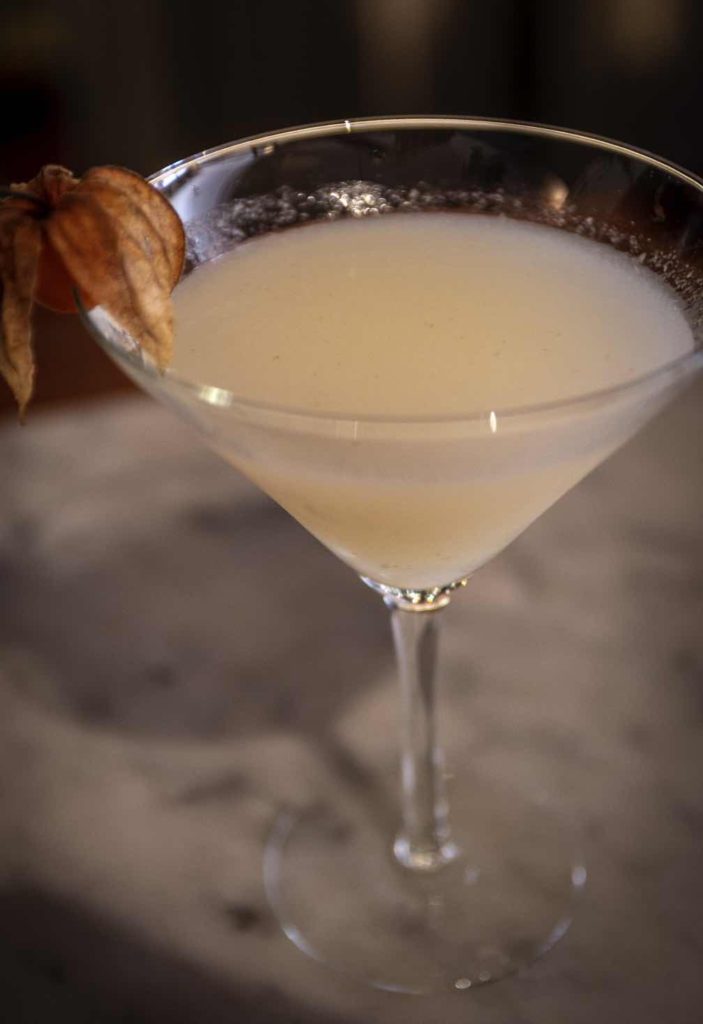 We decided to do a pit stop at Incanto, about 3 blocks away from our Hotel to get some warmer clothes.
I found the Lycheetini to be quite refreshing… even though the weather was getting colder outside.
Scott got the same Las Moras Sauvignon Blanc that we had at Inka Grill.
S. 49
US $15.55
---
STOP 5:
HOTEL RUINAS BAR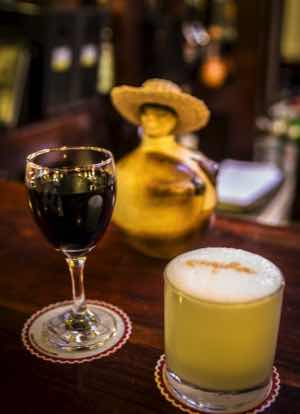 We decided to make a pit stop at our cute little boutique hotel – Hotel Ruinas.  It's located at Calle Ruinas No 472.
I drank a Pisco Sour Grande.
Scott had Casillero del Diablo Cabernet Sauvignon.
S. 30
​US $9.15
Note: If you wanted to stay here ask for a room facing the center court. They moved us the last couple of nights towards the back of the hotel and we had early wake up calls at 4 am from the rooster next door (it's not like he had a snooze button)… and the room hadn't been renovated yet, plus the water pressure wasn't as good as the first room.
---
STOP 6:
PAPILLION
This cute restaurant sits on the second floor on one of the buildings over looking the Plaza de Armas. Here is where we go to try Cuy (Pronounced Ku-E.  Guinea Pig). To me it tasted like roasted duck. (Did you think I was going to say chicken? :-P) Traditionally, what we were told, is that it's normally served whole and with the head.  But since this is a more tourist oriented place, it's served where you can't tell it was a cute rodent.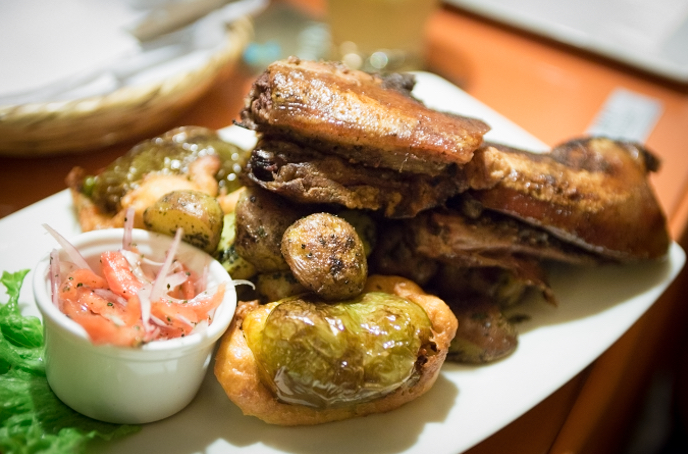 We had 2 glasses of wine and a pisco sour.
S. 121.50
​US $38.55
---
STOP 7:
​BACO
This restaurant is right across the street from our hotel and one of our favorites come the end of our trip.
We just wanted to have a glass of port before heading back to the hotel.
As a complimentary dish, Baco gives a little bit of Peruvian tastes to sample.  The plate is a chef's choice so it's different every few days.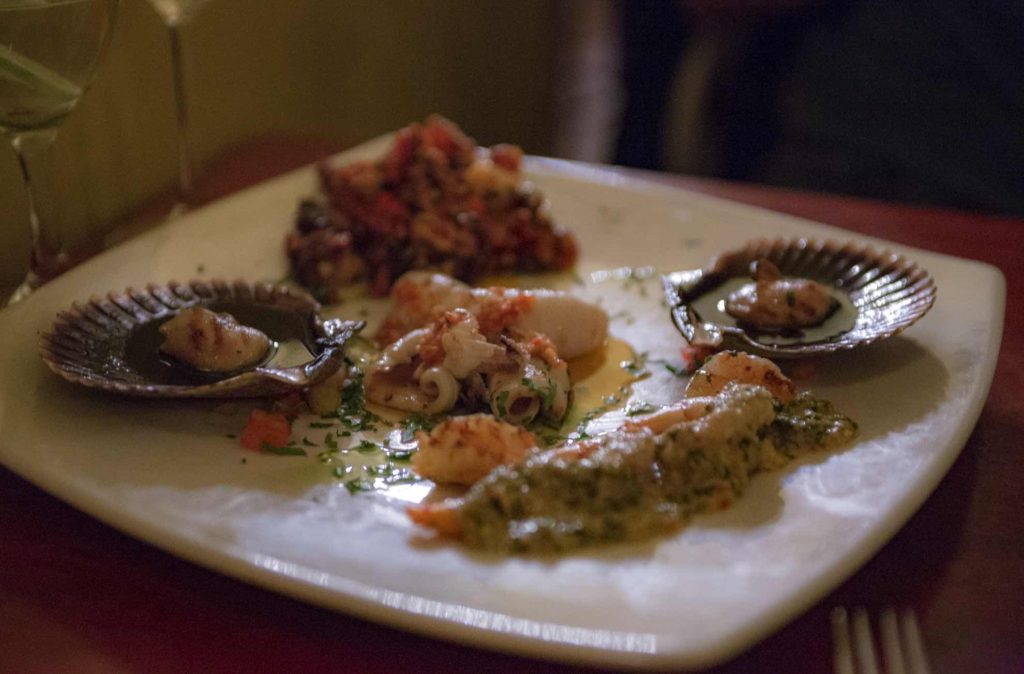 Unfortunately, we can't remember the name of the port as we'd been drinking all day and our note taking started getting less and less detailed… hiccup!
S.40
US. $ 11.91
The rest of our trip went wonderfully!  We adventured to many Incan ruins, saw the locals make clothing from Alpaca and how they make the dyes and visited the famous U.N.E.S.C.O. site – Machu Picchu…
I can't wait to go back to Peru again!